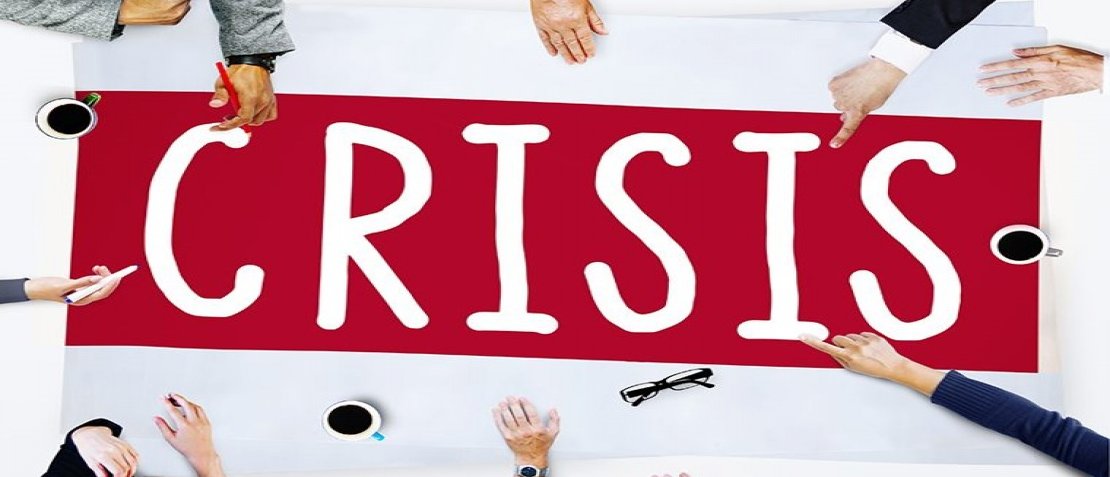 Why you need a crisis communication plan
A global crisis can hit at any time, and even with the best marketing strategy in the world, you can't stop it impacting your brand. But you can mitigate the damage with an effective crisis communication plan. Here are our top tips to build yours.
Just a few short weeks ago, the world was a very different place. Now, we're facing daily global issues that could cause short and long-term damage to your brand.
But that doesn't mean you should bury her head in the sand and let the crisis wash over you. There's still time to adapt your strategy to alleviate the repercussions, and prevent further brand damage. Unprecedented situations call for unprecedented measures.
Activate your crisis management plan - if you can
First things first, mobilize your crisis management plan.
This is a strategy that your brand should have in place that you can follow in case of dire situations. Generally, brands create theirs based on various potential scenarios, from complaints blowing up, to the impact of store closures, and maybe even in response to natural disasters.
But, hindsight is a wonderful thing. It's easy to say should've, could've, would've. Especially since even the most prepared global companies would never have prepared a plan for a global pandemic. So if you don't have a plan, or yours doesn't cover the current climate, there are still steps you can take.
Step 1: Identify your crisis communication team
This is essential before you go any further - especially if teams are disconnected when working from home. You need to know who will be making decisions, and who will be instigating them.
Determine your internal and external stakeholders, and find the chain of command they should follow for approval.
In a crisis situation, you need one clear voice making decisions. If your positioning is split internally, it'll appear disjointed to consumers. There should be one person at the top, whether that's your CEO, CMO, or another member of the management team, that will make the final decision on all communications.
From there, the task force should be split into the people that will do the workload. That could include any role that is customer-facing or responsible for consumer communications, such as customer service, marketing, community management, legal, PR, or HR.
Then, identify the chain of command. Who feeds into who? What will be the approval levels? How will that team keep aligned? This team will be the foundation of everything your company does during a crisis. They must work together efficiently, or you'll be building your crisis plan on unstable ground.
Step 2: Share your communications guidelines
Once you have your team defined, make sure your entire company knows who to go to for input into their role. You need everyone on the same page, or risk rogue employees (well-intentioned or not), potentially inflaming a situation.
At the same time, release a broad communication guideline that manages the release of information to employees. This should cover the essentials depending on the situation:
Is there an official statement that the company is publishing?
Is there any official messaging, angle or tone that the company wants people to use in any external messaging?
What can/can't you say to clients, to prospects, in response to journalists, on social media accounts, etc.?
Who should press inquiries be forwarded to?
Who should issues be escalated to?
When will there be another update?
This isn't an extensive list and will change depending on whether it's an internal crisis (store closures, negative news story), or external crisis (natural disaster, global financial issues, pandemic).
Step 3: Reconsider all ongoing projects
Take a breath and take the time to review all upcoming projects before you take any action. Yes, there's a crisis communication plan in action. But there's a business to run too. And when you come out of this on the other side (which you will), you want the company to still be working efficiently.
First, see what you have in the pipeline. This could include:
Blogs, reports, and other digital content
Email campaigns
Social media scheduled posts
Advertising (online and broadcast)
Partnerships, sponsorships, and promotions
Events
Product launches
Then, look at each element, and consider it through the eyes of your crisis. Is it:
Contravening the communication guidelines?
Likely to inflame the crisis?
Inconsiderate or tactless when relating to the crisis?
Adaptable to help resolve the crisis, or to turn it into an opportunity (again, if only done with full consideration and respect)?
All ok to proceed as is?
For example, if there's a travel crisis, a report into the airline industry would be considered ill-timed and thoughtless. Don't make the mistake.
And that goes for any scheduled content. If you have all your social media messaging set-up and ready to go, review all the content that you have planned. A tweet about the best banks could have been fine a few weeks ago, but if you're in the midst of a financial crash, best case, you'll get laughed at. Worse case - another crisis on your hand.
Step 4: Careful what you share
When an issue becomes a global conversation, it's seems like every news source, blog, and post wants to be part of that information stream.
Of course, as a brand, you want to be relevant, and share the latest information and trends with your audience. Just be careful what you share.
Fake news, disinformation, even the right information misinterpreted, can cause more damage than good. Don't assume everything you see online is true and accurate - before sharing anything through official channels, ensure it has passed through a credibility check. If you share a lot of content such as this, look for a solution that allows you to check content credibility automatically.
Step 5: Monitor, monitor, monitor
Use the data you have at hand to understand the tides and changes of the crisis. An issue can develop daily - if not hourly - and you want all the relevant information on hand in real-time. To help you make data-driven decisions.
Instinct means nothing. Especially in a crisis. When you make a decision, make it count. Create a crisis dashboard to help you monitor the situation, and incorporate data such as:
Social media data. This helps you track social opinion of a crisis, and see if the global opinion is changing. See how consumers are reacting, if there are certain trending topics related to the issue, or if your brand specifically is taking a reputation hit.

Competitor analysis. What are your competitors doing? Are they producing content you're missing, or reaching an audience you haven't? Did they face a similar crisis in the past, and how did they deal with it?

Financial data. How's the market handling the crisis? Will that have a direct impact on your strategy, and will you need to adapt to suit?

Consumer data. How are your clients talking to you about the issue? Are you getting an increase in complaints, and what do those complaints entail?
Ensure all the data you think relevant is available through a command center, then give all people that need it access. That may be the whole company. It may just be your crisis comms team.
Step 6: Respond, react, engage
Keep the conversation going. You can't hide during a crisis. In fact, you need to be more visible than ever before. Be active on social, respond to queries, keep communicating as best you can.
If you don't have an update - tell people that. It's better than being left in the dark.
Better still, see if you can create content that will help your audience further - to strengthen that brand relationship, and show support during a time of need. This goes back to the monitoring section mentioned above - find the conversations that your consumers are a part of, and be part of them whenever you can.
Step 7: Don't panic
Remember. No crisis will last forever. Be logical, strategic, and thoughtful, and you will get through it.