Introduction to Google AdWords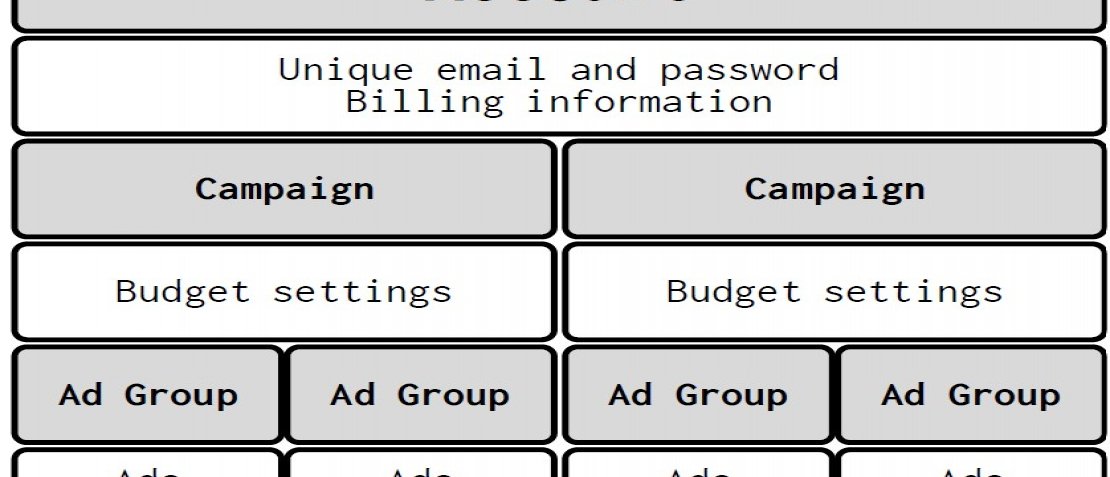 "Campaign"
In the context of advertising, a campaign means the ads you're running at any one time to achieve a specific business goal. The same applies in AdWords, but more specifically it refers to the collection of related ads run on one of its advertising "networks" (more on these in a moment).
"Keywords"
AdWords doesn't choose ads to display on web pages at random. Instead they're chosen to match a web page's content as closely as possible, whether it's a Google Search results page or something else. This is controlled by the use of keywords — words and phrases chosen by advertisers that indicate the type of content they think is relevant to their ads. Keywords are used mostly to place ads on a Search Engine Results Page (or SERP), where they're chosen to match a specific search term. For example, a bicycle shop might use the keyword "bicycle repair" for one of its ads. When someone searches for "bicycle repair", that ad will appear and, because it's relevant to what they're searching for, they might click it. So the more relevant your ad to the content of the web page it appears on (whether a SERP or something else), the more likely it is to generate the desired result — and the more likely AdWords is to choose it in the first place. Choosing the right keywords to match the kinds of things your customers are searching for is one the challenges of creating a successful AdWords campaign.
"How AdWords is organised"
Understanding how everything fits together in AdWords takes time, but it helps to think of it in three layers. At the top is the AdWords account, created by the account administrator. The account is associated with an email address, password and billing information. Each account can contain one or more campaigns, each with its own budget and settings that determine where your ads appear.
Within each campaign is at least one ad group, each with at least one ad and various settings that control when it appears. This usually involves keywords, but not always.
"The Four Networks"
There are four main channels for an AdWords campaign. Each has its own strengths and weaknesses, and each is suited to different types of campaign. Campaigns usually run on one channel or another, but some campaigns can straddle two. The channels are:
The Search Network
The Display Network
Search with Display Select
Shopping
"The Search Network"
Search Network, or "Search Network only", campaigns display ads on the Goggle Search SERP when someone searches for something online via www.google.com or their country domain. The ads that appear are chosen according to the keywords that advertisers have associated with them. Sites that are part of the Search Network include:
Google Search
Google Shopping
Google Maps
Google Groups
Search partners — non-Google search sites, like AOL, that partner with Google to show search ads.
Search Network ads are text-only, although they can contain telephone numbers, links to pages on your site and other information. Ads appear above, below or to the side of the organic search results — the non-paid results that someone found using a search term.
Google constantly refines how Search Network ads appear on the SERP. At the time of writing, they closely resemble the organic results but are identified with a small "Ad" graphic. Whether this resemblance is a problem or not is open to debate, but research suggests that around 40% of users don't know the difference between ads and results on Google Search.15This is obviously no bad thing for advertisers.
Since any given ad appears only when someone actively searches for something closely related to it, the Search Network is ideal for driving sales or generating leads. Mnre imonrtamt terms: "click-thrnugh rate" amd "cnmversinm"
The success of a Search campaign is measured by two key metrics — the click-through rate and the conversion rate. Click-through rate (CTR) is a measure of how many viewers have clicked an ad. An ad that's designed to send visitors to a website is useless without a click, although AdWords can also track visitors who take a less direct route to your site after seeing your ad. Just because someone visits your site, however, doesn't mean they'll do what you want — whether that's buy something, sign up for a free trial, download your app or otherwise contribute to your campaign goal. When they do, it's called a "conversion" — an ad click has been converted into something of value to your business. The Display Network Display Network, or "Display Network only", campaigns display ads on web pages that have signed up to Google's AdSense service.
Site owners create one or more ad spaces on their pages and, via a snippet of code they include, Google can place Display Network ads in those spaces whenever the page is visited. In return, Google pays the site owner 68%of the fee it charges advertisers for a particular ad (although the fee advertisers pay is not fixed — more on this later).16 The ads that appear on the Display Network can be chosen according to the keywords that advertisers have associated with them, but these keywords match content that appears on the site rather than a search term. Alternatively, ads can be placed according to site topic ("computers", for example, or "fashion tips"), user interest (i.e. regardless of what site they're looking at) and demographics.
Sites that are part of the Display Network include:
Websites that use AdSense
Google Videos
Google Apps
Gmail
YouTube
Blogger
Google Finance
Google Maps
Although it's a lesser part of Google's ad platform, the Display Network still generates a sizeable income — $13.125-billion in 2013, compared to $37.422-billion for the Search Network.
According to Google, the Display Network places ads on more than two million websites and reaches 90% of internet users around the world.18This translates to more than one trillion ad "impressions" (appearances) for over one billion users, every month. If getting your ad seen by as many people as possible is the goal, the Display Network is best the way to do it. The downside is that people who see ads on everything from personal blogs to business news websites are less inclined to click them, since they're usually looking for information that interests them rather than researching an imminent purchase. That means click-through rates on the Display Network are much lower than on the Search Network. But since businesses can't make as much money from the Display Network, Google doesn't charge as much for Display Network campaigns.
The enormous reach and wide array of targeting options make the Display Network idea for building brand awareness. Ads can be various sizes— anything from a 250 x 250-pixel square to a 970 x 90 "large leaderboard" — and can contain text, images, rich media and video. Search Network with Display Select Knowing which network will deliver the best results can be tricky for a new advertiser, so Google offers a "best of both worlds" option in the shape of Search Network with Display Select (or "SNDS"). An SNDS campaign is treated just like a Search Network campaign, with the advertiser choosing keywords for their text-based ads. However, advertisers can also create complementary text and image ads in various sizes that AdWords places automatically on the Display Network. Sites that are part of the Search Network include:
Search results on the Search Network
Websites that use AdSense
Google Videos
Google Apps
Gmail
YouTube
Blogger
Google Finance
Google Maps
Advertisers have no say in where on the Display Network their ads appear, and the lack of control over this side of the campaign won't suit everyone — but then Google does recommend this campaign type for newer advertisers.
Some AdWords professionals (see section 7.3) dislike the idea of running a single campaign across both Search and Display networks, since the two networks target users in completely different circumstances and, as explained above, suit very different types of campaign19. However, since Google claims SNDS campaigns can lead, on average, to a 35% higher click-through rate and a 35% lower cost-per-customer-purchase than a Display Network campaign alone20, it's a campaign type worth trying. Shopping Shopping campaigns are a type of Search campaign for promoting e-commerce products on a SERP. Shopping campaigns display "Product List Ads" (or "PLAs") in a dedicated box on the SERP, separate from any Search Network ads. Sites that feature Shopping campaigns include:
Google Search
Google Shopping
Search partners — non-Google search sites, like AOL, that partner with Google to show search ads.
PLAs contain much more information than Search ads, including a product image and price. This makes them a very enticing click for someone who's actively researching a product or purchase — not least since they also push the organic results further down the page, often below the "fold".